How Leningrad Survived the Siege
For nearly three years, Leningrad was under attack night and day, and almost half its population, including 700,000 women and children, perished. The Germans left the city of Peter the Great, his "Window to the West," in ruins. Still, they could not defeat Leningrad.
Meanwhile, in Leningrad, workers took all the treasures from the Hermitage Museum and the Palaces of Peterhof and Pushkin and buried them in basements and beneath St. Isaac's Cathedral. Not everything made it out, including many paintings and the mysterious amber room of the Summer Palace. On Hitler's orders most of the palaces, such as Gachina, the Summer Palace in Pushkin, and other historic landmarks located outside the city's defensive perimeter, were looted and then destroyed, with many art collections being transported to Nazi Germany.
The Leningrad airport and many factories, schools, hospitals, transport facilities, and other buildings were destroyed by air raids and long-range artillery during the 30-month siege. Still, students continued their studies and some even graduated, celebrating between bombings.
Then, composer Dmitri Shostakovich wrote his Seventh Symphony, the Leningrad Symphony, and it was performed in this besieged city, bombs exploding in the background, but no one leaving the performance. To hear the symphony today in the cemetery while thousands of people walk about without talking is to understand how music can capture emotions more readily than words.
The Seventh played while my friend, Mike Kweder, and I walked about in the silence of the mourners, and we stopped at times to talk, to wonder. Mike asked if I thought the cemetery would continue to be a destination on Victory Day, or any day, after the veterans were all gone; he wondered when the day would be taken for granted.
"We Simply Had Nothing to Eat"
When I first came to St. Petersburg, the veterans numbered in the thousands. Now there are only a few thousand, and many of them are not well. Back in the early 1990s one could not wander more than a few feet without meeting a survivor of the siege. Today, we must look intently for the medals, or for old women on benches, holding flowers. Then we both saw a young couple walk by with their young son playing with a toy rifle, making mock shooting noises, and I hoped he did not point the plastic toward someone who had seen enough.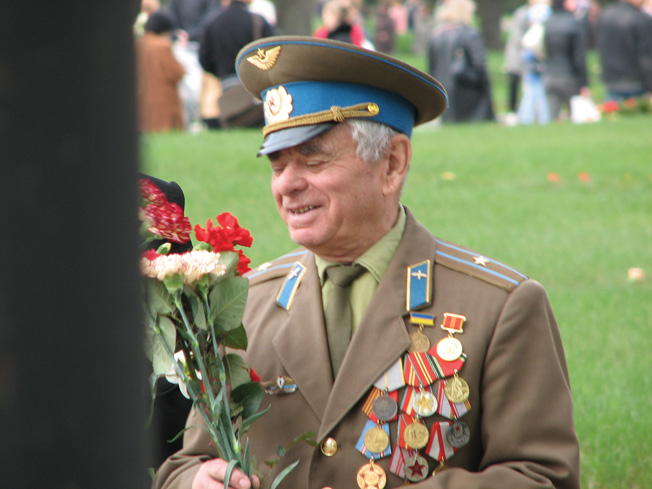 For the Soviets during the war, the future of their country and perhaps victory or defeat in World War II were in the balance. When the initial attack on Leningrad failed, Hitler ordered the siege to free up troops the Nazis needed elsewhere. Had the Germans taken Leningrad or destroyed it faster, they would have been able to sweep attack Moscow, the Soviet capital and their real goal, from behind.
The troops protecting the city were reliant upon its citizens to supply them with food and munitions—not an easy task for a city with virtually nothing.
"We simply had nothing to eat," one woman told me on a bench in the village of Pushkin. I had been walking about the town and stopped to buy some doilies she made by hand. She also had a plate of poppy seed buns her granddaughter had baked. The siege, she said, was a time during which one gauged success by being alive or not.
"I thought about food at breakfast, I played with it at lunch, and I pretended to consume it at dinner," she said. "This went on for me nearly from the start." She took a bite of one of the poppy seed rolls and looked around for other people who might buy her knitting. "Really, we were hungry from the very start. People must know that."
When the Nazis took Schliesselburg east of Leningrad, the city was officially surrounded, and within three years half of the city's population would be dead. Despite the danger, factories continued to supply arms and ammunition. Old men, women, and children replaced workers who left for the battlefield.
"But here's what mattered: the city tried to act like a city," Georgina's mother told me as she let go of my arm and ate cake, sipping tea and pausing to recall details. "A few dozen schools continued to educate, 20 movie and playhouses stayed open, the Grand Philharmonic played for at least a year."
Some survivors, however, tell of wartime NKVD activities, or encounters with people who had such severe mental illness from disease and starvation that it had became unbearable. The accounts are sometimes spurious, but too many narratives contain too many parallel events to write them off as exaggerated. Several wrote of what became known as "blockade cannibalism," including the story of a boy who was enticed to enter someone's apartment to eat warm cereal only to discover a room of butchered corpses behind a door.
Radio broadcasts continued. The survivors of the siege declare that efforts to maintain morale were as significant as the troops on the front lines in saving the city.
Exterminator Squads
A few years ago at Rasputin's, a pub just outside the Nevksy Monastery, I met an elderly man. I immediately recognized him from earlier in the week at Trinity Cathedral, where we both lit candles at the tomb of Saint Alexander Nevsky, patron to soldiers and young men. I knew the man from his long gray hair and worn boots. I was drinking wine and waiting for soup when he asked me if he had seen me earlier in the week.
We talked, and I asked if he was a veteran. He smiled and said yes, and eventually he told me of his covert operations behind enemy lines, deep in the German-occupied sections of the city. He was on food detail, he told me, pointing to his own meal. He and his comrades were in charge of transporting as much food as possible into the city. He had no reason to fabricate the story, yet I had never heard of such maneuvers. We drank together, and I told him of Americans I had known who fought in the war.
I have met many Russians in pubs who love to fabricate stories of heroism, but this man was not among them. According to the curator at the Monument to the Heroic Defenders of Leningrad, for a few months in the summer of 1941 Soviet guerrilla detachments called "exterminator squads" set up camp behind enemy lines to assist regular troops and volunteers defending the city. They annoyed the Nazi commanders to no end.
One "guerrilla province" was formed in Nazi-controlled areas of Leningrad—something unheard of in much of military history—a vast area behind enemy lines under its own political and economic rule. Thirty-five thousand troops operated there, harassing the Nazis. They also managed to transport more than 500 tons of food to the city in March 1942. The old man showed me the medal he was awarded for "extreme bravery."
"I Shaved Every Day"
I met another nearly 90-year-old man on the steps near the Motherland statue. A young girl of about eight reached up to hand him a flower. and he cried. I said how beautiful it was that parents still teach their children to respect him and his comrades 60 years or more later. He smiled and added that what touched him was when he was a young man leaving for the front lines, a young girl had run to him and handed him a flower. This young girl reminded him of that moment.
"It happens every time a child gives me a flower," he said. He laid the flower at the foot of the statue. I asked what had gotten him through the worst of the days, when, truly, it seemed there was no hope of continuing. He stroked his beard.
"I shaved every day," he said. "No matter how weak we were, and no matter how long we might spend doing nothing but waking, resting, sleeping, and waking again, every day we were encouraged to shave, and did. It made me feel like I was ready for what was next."
Leningrad's Astoria Hotel did not resemble a hotel at all during the siege. It was a hospital with bodies in the hallways and on the stairs. The manager at the time, Anna Andreievna, spoke of how the ground was too frozen to bury the dead, so the bodies accumulated in the streets. But the survivors never lost faith in the Red Army, in the workers, in themselves, and in God.
"I used canes to walk to and from the hotel," Anna remembered. "I was so weak, dropping from 160 pounds to about 90. But the ones who stopped, died. Sometimes I would pass someone breathing heavily in the morning sitting on a step, and in the afternoon pass again and that person would be dead."
The Eternal Memory of the Siege of Leningrad
Leningrad's population of dogs, cats, horses, rats, and crows disappeared as they became the main courses on many dinner tables. Nothing was off limits, and stories circulate about eating dirt, paper, and wood. One void with stories of the siege lies in the details left out or destroyed. Stalin censored much of the news of anything except heroism.