Special Plane, Special Role: How the P-38 Lightning Helped Win World War II
The P-38 joined the war late, but it quickly became a famous workhorse.
In the spring of 1927, Charles A. Lindbergh singlehandedly extended the barriers of aviation when he flew the Spirit of St. Louis, a single-engine Ryan monoplane that he had helped design, across the Atlantic from New York to Paris. After the epic flight, Lindbergh, who was a trained fighter pilot and a member of the U.S. Army Reserve, continued making very long-range flights, sometimes accompanied by his wife, Anne.
Although he held a colonel's rank in the Army Reserve, Lindbergh had resigned his commission in order to take a leadership role in the American isolationist movement. Having lived for several years in Europe, during which he visited with the air forces and flew the top fighters of many European nations, Lindbergh was strongly opposed to American involvement in the war. Lindbergh's isolationism irked many prominent members of the Roosevelt administration, and when he applied to return to active duty after the Pearl Harbor attacks, his application was turned down by President Franklin Roosevelt, who commented to his staff, "I have clipped the wings of the Lone Eagle."
Even though he was not allowed to return to the military, Lindbergh nevertheless contributed greatly to the American war effort, first as a consultant with Ford Motor Company helping to work out the bugs of their contract production of Consolidated Liberator bombers and transports, then with United Aircraft, particularly in the F4U Corsair program. Lindbergh went to the South Pacific as a civilian technical representative for United Aircraft, assigned to the Marine F4U Corsair program, but he had not been in the region long before he became associated with the P-38.
Lindbergh was in the Pacific on U.S. Navy orders, but one of his personal missions was to make a comparison of the single- and twin-engine fighters in combat, so he obtained orders allowing him to go to New Guinea. When he got there, he went to General Whitehead and gave him a copy of his orders; he was told to join the 475th Fighter Group. Somehow, word of his arrival failed to reach General Kenney's headquarters until after he had flown several missions.
When he learned that Lindbergh was in his theater—and flying combat missions in P-38s—Kenney invited the famous aviator down to Brisbane. When Lindbergh arrived in Australia, Kenney took him in to see General Douglas MacArthur, telling his boss that he had "an important job" for Lindbergh. MacArthur authorized Lindbergh to work for Kenney, who promptly sent the Lone Eagle back to New Guinea to teach the young fighter pilots how to get more range out of their airplanes.
Lindbergh's solution to the problem was fairly simple. The Army pilots—and Marine pilots flying F4Us who also profited from his instruction—had been taught to fly their airplanes at high propeller rpm and high manifold pressure, which allows maximum power from a turbo-charged engine. Lindbergh told them to continue to fly at high manifold pressure, but to reduce propeller rpm, a technique that significantly reduces fuel consumption while allowing high power from the engines. The Army pilots thought such a technique would "burn up" their engines, but Lindbergh convinced them that this was not so. Kenney had authorized Lindbergh to fly combat missions on the condition that he not participate in the fighter escort missions against the most heavily defended Japanese targets. Soon Lindbergh was flying and teaching Army pilots to fly missions that previously had been far beyond the published range of the P-38.
Lindbergh's time with the P-38s in the Southwest Pacific came to an end after he did, in fact, become involved in a fight with Japanese fighters and was credited with shooting down a Sophie, a Japanese float-plane fighter. A second aerial combat a few days later found Lindbergh with a Zeke on his tail and several others getting ready to gang up on him. Fortunately, Lindbergh was in the company of a trio of experienced fighter pilots, and they quickly broke up the fight and saved Lindbergh's bacon.
When news of the aerial combat reached Kenney, he ordered Lindbergh grounded. Lindbergh went back to fly with the Marines on a few more missions, then returned to the United States with approximately 50 combat missions under his belt and one Japanese airplane to his credit. But he had left the fighter commanders in the Pacific with a priceless gift—the ability to greatly increase the range of their airplanes. On July 27, while Lindbergh was still flying with the 8th and 475th Fighter Groups, a P-38 formation had flown an unprecedented 1,280-mile mission escorting B-24s attacking Japanese positions in the Halmehera Islands northwest of New Guinea. Without Lindbergh's instructions, such a mission would have been impossible.
It was among the P-38 pilots of the Fifth and Thirteenth Air Forces that the number of aces was growing. Their longer range, especially after their effective combat radius was increased thanks to Lindbergh, allowed the P-38s to venture well into Japanese territory where the likelihood of encountering enemy aircraft was greatest. The P-38 groups were blessed with some highly skilled and aggressive fighter pilots, including Tommy Lynch, Tom McGuire, and Dick Bong. Lynch was the most experienced of the lot, having started his combat career against the Japanese in the under-performing Bell P-39 Airacobra. He and Bong became close friends shortly after Bong arrived in the theater in 1942, and the two teamed up.
Lynch, Kearby, and Bong: Who Shot Down More Enemy Fighters? 
Another top-scoring fighter pilot in the theater was Colonel Neel Kearby, a P-47 pilot and commander of the 348th Fighter Group. Until March 1944, Lynch, Kearby, and Bong were in a neck-and-neck race for the top ace slot. Kearby and Lynch died within days of each other, Kearby on March 4 and Lynch on the 8th. Kearby was shot down by a Japanese fighter, while Lynch was hit by ground fire during a strafing run. Bong, alone, remained of the three top scorers. Kenney allowed him to continue to fly combat until April 10 when he broke World War I ace Captain Eddie Rickenbacker's score of 26 enemy aircraft. A second enemy aircraft shot down the same day brought Bong's official score to 27. Kenney promoted the young pilot to major and promptly sent him back to the United States to attend a gunnery school.
In mid-October, Major Dick Bong returned to the Far East Air Forces. During his absence, Major Thomas McGuire had been racking up a pretty good score and was within eight kills of tying Bong.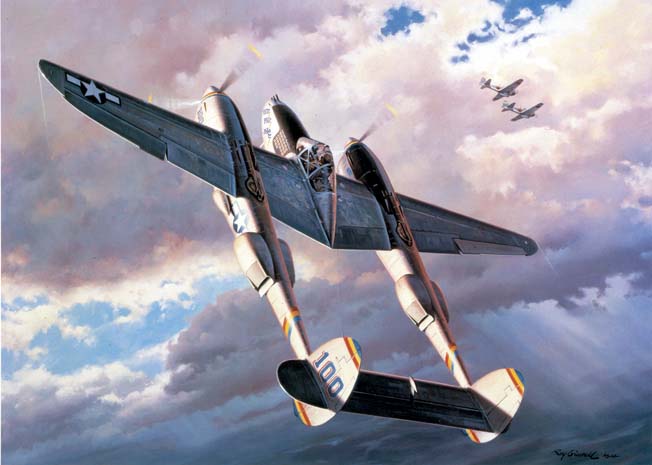 Bong told Kenney he had learned a lot in the gunnery school and wanted to put the knowledge to use. Ironically, Bong was not a very good shot and had never attended gunnery training prior to coming to the Southwest Pacific. Now that he had learned the tactics of aerial gunnery, he wanted to put it to the test. Kenney denied his request to return to a squadron but put him on his staff and assigned Bong to go around to the various squadrons and teach them what he had learned in the States.
Bong was allowed to fly missions and continued shooting down Japanese planes until he reached 40, at which point Kenney decided that he was too valuable to lose and sent him back to the States permanently. By this time, McGuire was within two kills of Bong's score. On January 7, 1945, McGuire was killed when he stalled and spun into the ground while trying to get in position to help a fellow pilot who was under attack by an especially aggressive Japanese fighter pilot.
What Made the P-38 an Ideal Reconnaissance Aircraft
Because of its long range and twin engines, the P-38 was the favored airplane in the Far East Air Forces. When General Arnold notified Kenney that P-38 production was scheduled to cease in favor of P-51s, Kenney sent word back that he did not want or need any more P-51s, but that he wanted more P-38s. Kenney told former General Motors president General William Knudsen that the reasons he had given for wanting P-38s in September 1943 still held. Knudsen promised Kenney that P-38 production would continue. By war's end, more than 10,000 Japanese aircraft had fallen to the guns of P-38s.
While the fighter version of the Lightning was taking on the Japanese and German Air Forces, the photo reconnaissance version of the airplane was also playing an important role. Early in the war, Army maintenance depots began converting P-38s into F-4 photo reconnaissance aircraft by removing the guns from the nose and replacing them with cameras. A production model of the Lightning reconnaissance aircraft was designated as the F-5.